September 8, 2020 3:45 am
Real Estate Market Update
Updated Sept 8, 2020
Phase 1 of the Governer's Stay Safe seemed to put our market in a bit of a deep freeze but when phase 2 happened our clients picked right back up where they left off. Sure, things are different. We are taking precautions like wearing masks to show homes or meet with clients, but we did end up having a very busy "season" even if it was slightly displaced. The low inventory picture also froze in place as buyers slowed, but inventory did not build up because a lot of sellers just waited to list the house. Even now at the end of the summer we are in a low inventory situation. It's bad. Keep in mind a 60% pending percentage is in balance. Interest rates made news last week when they plummeted suddenly. They did come back up in sporadic fashion. There is a lot of uncertainty happening with the stock market, a global pandemic and oil supply/prices. I expect the volatility to persist awhile longer. It is too early to tell what effect all of this might have on our local real estate market, if any, but we can tell you that we are not seeing buyers cool down yet. When a new listing hits they still want to see it right away. We are still having multiple offer situations and bidding wars. We have been in such a short supply of homes for sale I am guessing buyers may go out looking for a home even as they are encouraged to limit contact.
Take a look at north Tacoma:
North Tacoma Pending Percentage – Single Family Homes
Pendings
Actives
Pending %
Under $200K
0
0
N/A
$200K-$300K
1
0
N/A
$300K-$400K
16
7
229%
$400K-$500K
28
11
255%
$500K-$600K
12
6
200%
$600-$700K
8
8
100%
$700K-$800K
7
4
175%
$800-$900K
3
4
75%
$900K-$1M
1
2
50%
$1M+
4
3
133%
Yeah, that's bad (for buyers). But Pierce county as a whole looks even worse. Buyers in the $200,000 to half a million range, which is the vast majority of buyers by the way, are facing a pending percentage of over 400, meaning there are just way more buyers than there are homes. When does this offset season end? Ordinarily we see volume through October and things slow in November. We'll see. Home prices in Tacoma are up 8.33% year over year, from a median of $300K last year in all of Tacoma to $325K this year.
Pierce County Pending Percentage – Single Family Homes
Pendings
Actives
Pending %
Under $200K
16
12
133%
$200K-$300K
180
45
400%
$300K-$400K
797
176
453%
$400K-$500K
729
173
421%
$500K-$600K
354
160
221%
$600-$700K
237
120
198%
$700K-$800K
125
79
158%
$800-$900K
63
62
102%
$900K-$1M
25
50
50%
$1M+
61
88
69%
Notice that even through Covid home prices just continued like this: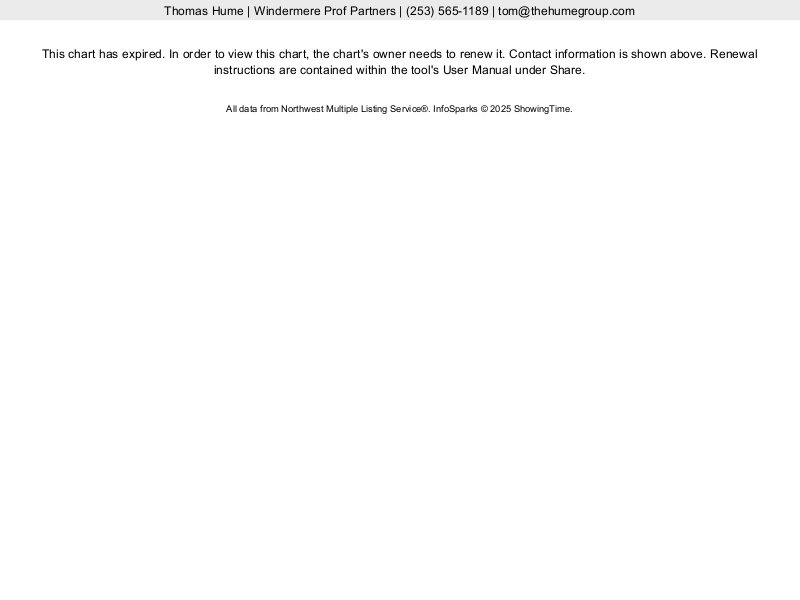 Here is the number of month's supply of homes in Pierce County. 🙁